Recordings
Please scroll down for track samples.  CDs cost £10 each plus postage. To buy a CD, or for more information, please email your request.
---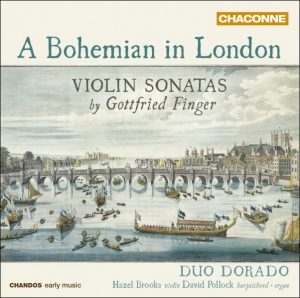 New Release!  Five-star review, BBC Music Magazine!
A Bohemian in London: Violin Sonatas by Gottfried Finger
Finger (c.1655-1730) was born in Moravia, but settled in London where he worked at court and in the theatre alongside Purcell. Like his character, Finger's music is bursting with colour and imagination, a kaleidescope mix of Bohemian, English and fashionable Italian elements. A groundbreaking recording, few of these sonatas have been heard in modern times. The violin is accompanied by harpsichord and organ.
'Duo Dorado have a Midas touch' *****  BBC Music Magazine
'Ce sont la de magnifiques interpretations',  Classique HD
(CHAN 0824)
---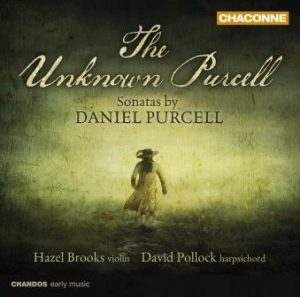 The Unknown Purcell: Daniel Purcell Violin Sonatas
Music for violin and harpsichord by Daniel Purcell (c.1670-1717), the talented, charismatic yet much-neglected young relation of Henry Purcell. This disc contains a number of premiere recordings of works from manuscript sources such as the sonatas from BL Add. MS 31466, as well as the 1698 published sonatas and the wonderful Chaconne from The Division Violin, described by BBC Music Magazine as 'hypnotic and harmonically scrunchy'!
(CHAN 0795)
---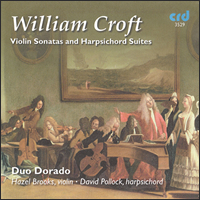 William Croft: Violin Sonatas and Harpsichord Suites
Croft and Anon
William Croft (1678-1727) was a distinguished English composer who knew Purcell in his youth and later overlapped with Handel at the English court. His unjustly neglected violin sonatas have never previously been recorded all on one disc. The CD also contains the world premiere recording of an anonymous 7-movement sonata from the same period. This astonishing piece contains the earliest known example of a virtuoso obbligato harpsichord part in an English violin sonata.
(CRD 3529)
---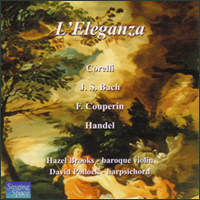 L'Eleganza
Corelli, Bach, Couperin, Handel
Sumptuous melodies, sparkling virtuosity and tantalising counterpoint by great baroque masters from Italy, Germany, France and England: this recording highlights contrasting national styles and ends with Handel, the quintessential cosmopolitan composer.
(Singing Space, SISPCD02)
Track samples:
Arcangelo Corelli (1653-1713): Sonata op. 5 no. 10 in F – Preludio
Johann Sebastian Bach (1685-1750): Sonata no. 4 in C minor – last mvt, Allegro
George Frideric Handel (1685-1759): Sonata no. 5 in D – last mvt, Allegro
---
The French Harpsichord
Chambonnières, Louis Couperin, D'Anglebert, Le Roux, François Couperin, Royer
This explores the seductive and sensuous sound-world of the French baroque harpsichord. The CD features music that would have been heard at the royal court, culminating in Royer's virtuosic and superbly decadent Marche des Scythes.
(London Independent Records, LIR006)
Track samples:
Louis Couperin (1626-1661): Branle de Basque
Francois Couperin (1668-1733): Les Baricades Misterieuses
Pancrace Royer (c.1700-1755): La Marche des Scythes
---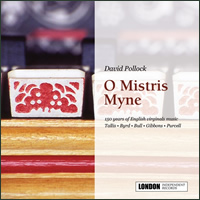 O Mistris Myne: 150 years of English virginals music
Tallis, Byrd, Bull, Farnaby, Gibbons, Purcell
A chronological recital of the best of the English virginalists played on a fine muselar virginals with its richly indulgent sound. The title refers to Byrd's sublime variations on a popular Elizabethan love song.
(London Independent Records, LIR005)
Track samples:
William Byrd (1540-1623): O Mistris Myne
Anon: My Lady Careys Dompe
Henry Purcell (1659-1695): Ground in D minor
---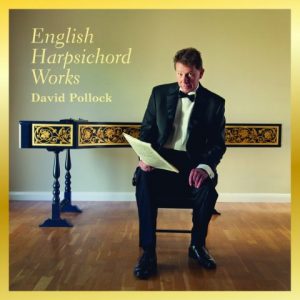 English Harpsichord Works
Purcell, Blow, Croft, Byrd
An anthology of English harpsichord music from the seventeenth century, featuring the greatest keyboard composers of the age.  The quarter comma meantone temperament used throughout offers a richness of sound that is lost in later music.
(MMC 112)
'very illuminating and played with great clarity and good sense of style and swing … an admirable introduction to the English keyboard repertory.' Early Music Review