We have a wide range of fascinating repertoire and are happy to tailor programmes to suit a particular venue or theme. We can include the viola d'amore on request.
Sample Programmes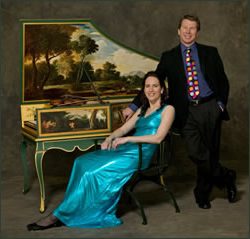 A Celebration of Bach
J. S. Bach's set of six sonatas for violin and obbligato harpsichord constitutes the cornerstone of Duo Dorado's repertory. Endlessly inventive, resourceful and moving, these masterpieces touch the depths and heights of the human condition. They can be presented alone (the entire set fits into two concerts), or combined with continuo sonatas and solo harpsichord works such as the Italian Concerto, and preludes and fugues from The Well-Tempered Clavier. We introduce the pieces with colourful anecdotes from Bach's life.
A Baroque Musical Feast
A delicious selection of sumptuous sonatas, rich melodies and tantalising counterpoint from across eighteenth-century Europe. Music by the greatest baroque masters from Germany, Italy, France and England, including Handel, Corelli, Couperin and Bach. The musical flavours from each country are as varied as the local cuisine.  This popular programme forms the basis of our CD, L'Eleganza.
Angels and Devils
A musical journey to eighteenth-century Italy, the birthplace of the violin, in the company of Corelli (the 'arcangel'), Scarlatti, Vivaldi, Locatelli and contemporaries. With Italian passion and devilish virtuosity contrasting with dreamy serenity and evocative melodies, this music is as varied as the country itself.  We finish with Tartini's famous 'Devil's Trill' sonata.  Some promoters have even chosen to serve Italian wine in the interval to complete the Italian experience!
Viva Vivaldi
Vivacious vibrant violin virtuosity… via Vivaldi's Venice!  Vivaldi's remarkable 'Four Seasons' with their dramatic depictions of nature are a favourite with audiences and regularly fill concert halls.  We present them with spoken introductions alongside masterworks by other much-loved baroque composers to create a dazzling and varied programme.
Mr Purcell, Friends and Rivals
Stunning music from seventeenth-century London:  The Purcell brothers and other native English composers are contrasted with foreign virtuosi who lived and worked alongside them.  The second half is inspired by an official composition contest for 'the Encouragement of Musick' which took place in 1701.  The finalists were four leading composers on the London theatre scene: Eccles, Weldon, Finger and Daniel Purcell.  Their task was to set to a libretto to music, and the result surprised some and horrified others.  One competitor was so disgusted that he left the country!  We present works by all four composers so that the audience can make up their own minds! This programme is packed with toe-tapping dances, soulful melodies and rumbustious divisions, and is made up of some of the best music we have discovered as part of our English Project.
Airs for the Seasons: Music of the Scottish Baroque
When Scottish composers began to assimilate the baroque style of Corelli and Handel in the early 18th century, they incorporated Scottish folk tunes into Italianate sonata forms, creating a colourful fusion style.  A leading figure is James Oswald, whose 'Airs for the Four Seasons' consists of 96 sonatas, each charmingly named after a flower, grouped under the name of the season in which it blooms.  We present one sonata from each season, interspersed with works by other native Scottish composers from the late 16th to the mid-18th centuries.  Spoken introductions offer glimpses into the lives of these characters, which include a music tutor to the royal children, a soldier who travelled to the New World, and a secret messenger to Mary, Queen of Scots!  The music is as diverse as their occupations, creating a fascinating and varied programme.
A Baroque Christmas
A festive extravaganza showcasing masterworks by favourite composers from across baroque Europe, including Handel, Scarlatti and Bach.  The second half consists of seasonal music for midwinter, including Biber's 'Nativity' sonata, the 'Pastorale' from Corelli's Christmas Concerto, a German setting of 'In dulce jubilo', and Vivaldi's 'Winter'.  Best enjoyed with mulled wine and mince pies!
The King's Delight
Music from the royal courts and theatres of Restoration and Georgian London, from elegant sonatas to rumbustious country dances. An evening in the company of Handel, Gibbs, Playford, Purcell and others. We set the scene with evocative readings and humorous anecdotes by Pepys, Boswell and Johnson. music we have discovered as part of our English Project.
Old meets New!
Contemporary composers, inspired by the colour possibilities of early instruments, have written some fascinating repertoire for baroque violin and harpsichord.  These works often draw on early musical forms.  We highlight the link between old and new music by performing a selection of contemporary pieces by composers such as Richard Gwilt, Andrew Wilson-Dickson, Rachel Stott, Gavin Stevens, Colin Hand and Lawrence Traiger, alongside baroque (and earlier) composers, whose works either served as inspiration, or share similar compositional traits, including Bach, Buxtehude, Farnaby and Biber. 
---
Education programmes
Children's concerts
We have considerable experience at performing in schools and have tailor-made programmes for children which tie in with the National Curriculum, including the theme of the Tudors for primary-aged children. These are concerts rather than workshops, but are highly interactive and incorporate lots of opportunity to join in, learn about the unusual instruments, and ask questions.
Lecture Recitals
These are available for older students and adult audiences. We are pleased to meet specific requests for themes, but examples can include the history of the violin from its origins to the present day, the development of early keyboard repertoire, eighteenth-century national styles, or a more detailed survey of one country or composer from the baroque period.