English Project
Music from 17th century England
Our interests are not limited to the standard repertoire.  Whilst we love performing the old favourites by well-known composers, we are equally fascinated to explore less familiar musical territory and have discovered some forgotten masterpieces.
In recent years we have developed a specialist interest in music from seventeenth-century England, particularly violin sonatas from the time of Purcell (yes – they do exist!), and have established a reputation as performers in this neglected field.
'The convincing playing is a model',  Early Music Review       'Charming'!,  BBC Radio 3
'this disc makes an important contribution to our understanding of Daniel Purcell… makes the music sing, dance and march with real technical aplomb',  BBC Music Magazine
This interest stems from Hazel's research into the rise of the violin as a solo instrument in England, which seeks to demonstrate that, contrary to popular thought, a distinctive, idiomatic, virtuosic and imaginative solo repertoire for violin existed during this time. What was going on musically in the years between Purcell and Handel?   The answer is: Plenty!   We are performing and recording this repertoire and putting early English music back on the map.  We work from original manuscripts and create our own editions. There is something extremely exciting and uplifting about turning dusty old manuscripts into living performances.  Hazel's research is sponsored by WRoCAH and the AHRC.
Below are some of the more important composers we have focused on.  We can produce concert programmes based around any of these composers, or include works by them in our other programmes.
---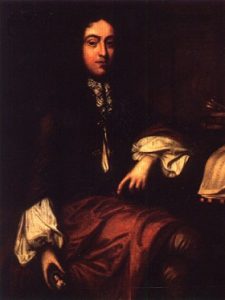 Daniel Purcell (c.1670-1717)
Daniel Purcell was a charismatic, witty and sociable personality, who came to be a leading figure on the English musical scene. Like his older brother Henry, Daniel was a chorister in the Chapel Royal, and he went on to be organist at Magdalen College, Oxford. On Henry's death, Daniel took over his role in London, directing and composing for the theatre.
Daniel's 1698 violin sonatas are the earliest published by an Englishman and owe much to the influence of Finger. Daniel apparently enjoyed drinking, making puns and 'playing on the virginals'(!). The later sonatas are more Italianate. All contain dramatically poignant adagios and toe-tapping allegros.
Hear them on our CD: The Unknown Purcell
---
William Croft (1678-1727)
Related to the lords of Croft Castle in Herefordshire, William Croft was born in Ettington, Warwickshire, and educated as a chorister in the Chapel Royal. A protege of John Blow and a great admirer of Henry Purcell, who was probably one of his teachers, he succeeded both of these as organist of Westminster Abbey. He also worked at the court of Queen Anne, overlapping with Handel when the latter first arrived in London. Croft was also related to the owners of what became the Croft Sherry Company (at the time specialists in portwine from Portugal), however records do not relate whether he himself enjoyed a tipple!
Although today he is largely known for his church music (anthems, hymn tunes and the Burial Service which is still sung at royal funerals), his chamber music is adventurous, imaginative, full of character and colour, and deserves to be better known. The harpsichord suites are a tour de force.
Hear them on our CD: William Croft, Violin Sonatas and Harpsichord Suites
---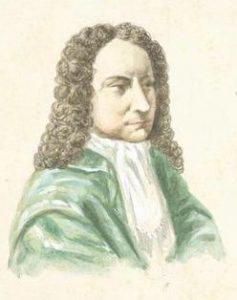 Godfrey Finger (c.1655-1730)
Finger was born in Moravia, probably studied with Biber, and was an outstanding virtuoso on the viol and trumpet. Arriving in London by 1687, he found employment in the Catholic Chapel of James II. Finger is notable for publishing the first ever solo violin sonatas in England (probably out of financial necessity following the king's exile in 1688), although native composers soon took up the idea. He went on to make a name for himself composing for the theatre. This success came to an abrupt end in 1700 when he entered a competition to set Congreve's 'The Judgement of Paris' to music – and came last! Nowadays it is felt that Finger's entry was probably the strongest, but his age, foreign nationality and Catholic faith counted against him. Finger was disgusted and left the country, never to return. His style is a fascinating mix of quirky central European elements and dances that might have been lifted from one of Purcell's theatre scores.
Hear this astonishing composer on our CD: A Bohemian in London